Back to all posts
Posted on:
Developmental Check-Up- Friday April 29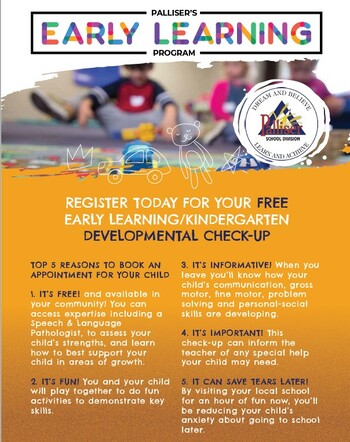 Register today for your FREE Early Learning/Kindergarten Developmental Check-Up
TOP 5 REASONS TO BOOK AN APPOINTMENT FOR YOUR CHILD

1. IT'S FREE! and available in your community! You can access expertise including a Speech & Language Pathologist, to assess your child's strengths, and learn how to best support your child in areas of growth.
2. IT'S FUN! You and your child will play together to do fun activities to demonstrate key skills.
3. IT'S INFORMATIVE! When you leave you'll know how your child's communication, gross motor, fine motor, problem solving and personal-social skills are developing.
4. IT'S IMPORTANT! This check-up can inform the teacher of any special help your child may need.
5. IT CAN SAVE TEARS LATER! By visiting your local school for an hour of fun now, you'll be reducing your child's anxiety about going to school later.
Call Coalhurst Elementary - 403-381-3330 to book an appointment for Friday, April 29, 2022
 Due to Social Distancing guidelines, we have a finite amount of spaces available, book your appointment ASAP.